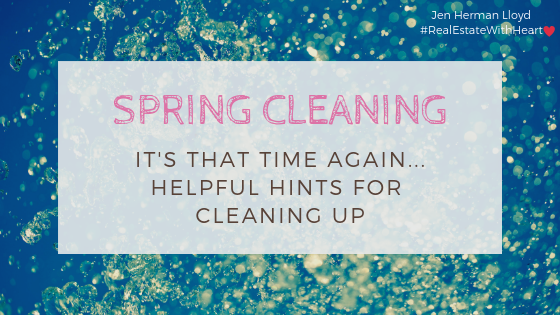 Aaaah Spring...the birds are singing, the days are warmer, the flowers are blooming, seasonal allergies are starting...you've just gotta love it! With Spring comes that yearly tradition: Spring Cleaning! I must admit, it's not my favorite tradition, but some people love it (and are pretty amazing at it too!). I took a poll amongst my avid, expert, and most talented "Spring Cleaners" to give me some of their best pointers on where and how to get started with getting rid of the dust, dirt, and clutter after a long winter. Here's a quick run down from the Experts...
Start With Baseboards, Door Frames, and Walls
According to my Experts, these are some of the most often overlooked areas of your home. They can accumulate quite a bit of dust and dirt. A simple clean, all you need to do is wash the areas down with some soap and water! Let them dry thoroughly. For more stubborn dirt or stains, you can try using Magic Eraser.
Wash Those Windows
This one I actually LOVE doing. No really, I do! I like using Sprayway Brand's "World's Best Glass Cleaner", but whatever you decide to use to wash your windows, just make sure you choose a cloudy day to clean them. Why? Because on a sunny day, the windows can dry too fast and then they get all streaky (which no one likes!). You could always have the windows cleaned by Professionals, there are a lot of great local companies and they do an incredible job both inside and out!
Deep Clean Those Carpets
If you or someone in your family suffer from allergies, this is an important one! You can have your rugs cleaned professionally or you can always go the DIY route. If you decide to do it yourself, you can rent a deep cleaner or purchase your own carpet cleaner (we have one, they're GREAT!). After removing clutter from the floors, make sure you inspect and pre-treat any stains you find on the carpet before you begin the deep cleaning process. Keep in mind, this could turn out to be an "All Day" project as the rugs will need time to dry.
Give Your Furniture The "Once-Over"
Apparently, Spring is the perfect time to vacuum your furniture and refresh the upholstery. You can clean any wood furnishings or furniture with a polish or dust cloth. Also, I know this sounds like a no-brainer but be sure to clean under the furniture, even under cushions and pillows, as well as all around the furniture. The Experts have informed me that the hose attachment for your vacuum will come in handy for these tasks.
Clean Behind That Refrigerator
This is another one that a lot of folks don't even think about. Trust me, a whole heap of dust, dirt, and debris can collect around the fridge. It will shock you! Take time to move your refrigerator, dust behind it, and use your vacuum to really clean all around it. It will help your fridge to work more efficiently.
Dust and Clean Light Fixtures
Light fixtures can often go ignored....until you see cobwebs collecting. The Experts recommend taking your light fixtures apart and wiping everything down with a lint free cloth. Use a mild cleanser for dust and dirt that has really built up over time. A few of the Experts said that they use a 1 cup:1cup ratio of apple cider vinegar and water mixed in a spray bottle to get crystal or glass chandeliers sparkling again (if there's a lot of dirt and grime build-up, this may need to be done a couple of times).
Power Washing Outside Of Your Home
Spring is an ideal time to power wash outside of your home. Get rid of any dirt and debris that may have built up over the course of the Fall and Winter. Your home will look refreshed and like new! Be careful with power washing if you have stucco on your home as the two are not the best of combinations! You don't want to damage your stucco.
Don't Forget The Gutters
Eventhough it's technically not "Spring Cleaning", it is good "Spring Maintenance". Make sure you clean out those gutters, after all April Showers bring May flowers!
I'm still not a fan of Spring Cleaning, but hopefully this will help you get started with planning your cleaning priorities! Me personally, I'm just going to keep hoping for a magic wand that I can wave and make everything clean.
If you're looking at your place and finding that you need advice, or a little more or less space, let me help you! Buy, Sell, New Construction, Investment, or Advice just reach out to me

[email protected]

or 267-446-0667. #RealEstateWithHeart AND Integrity!
Happy House Hunting and Let's Go! ~ Jen