Let's Make It Nice and Easy...Tips To Make Your Home Buying Journey Smoother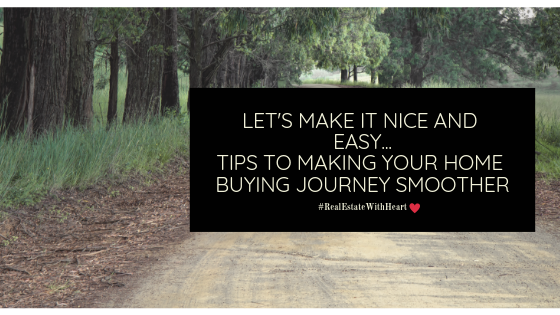 Thinking about jumping into the exhilarating world of Home Buying? Well, whether you are a first time buyer or a "seasoned expert", the process of buying a home is anything but boring! No doubt, you will encounter some twists and turns along the way, but never fear because I'm here to help you navigate your way through.
Let's Get Down to Basics...The basic framework of the Home Buying process is quite simple: First get pre-approved for a mortgage (I can't emphasize this one enough). Then, look for a property that fits both your needs and your budget. And lastly, you'll hopefully put in an offer on a property...But is there anything you can do to make this process easier? Absolutely! And Lucky You because I'm going to pass along to you some of the advice that I give to my Buyers! Ready? Here you go:
Be Good...Make a Strong Offer
What does that mean? When you're in the midst of a market where the inventory of homes are low and the number of buyers are high, competition can get intense (hello bidding wars). Just because you put an offer on a property, it doesn't guarantee that it will be accepted. The stronger your offer, the more likely it will be to get accepted or atleast be in the running.
You never want your offer to be too low (especially if you really want the property). What can happen if you put in a low or "lowball" offer? Low offers can come across as insulting to some Sellers. Instead of your offer having a chance at being countered, it could just be outright refused by a Seller and then it's "Game Over". Conversely, make an offer too high and you could still have a problem. Yes, a high offer may be accepted or win the bidding war, BUT if the property appraises BELOW the accepted offer's sales price, your mortgage company may not approve for you to borrow the amount you wanted for the purchase. No Mortgage approval can mean no house...or you may be left to make up the difference and have to lay out more money inorder to secure the loan for your home. That's a worst case scenario, but I've seen it happen.
Get Acquainted...Understanding Contingencies
Contingencies are crucial for you as a Buyer to understand and know before you submit your offer. Contingencies include items and details like the Right to Conduct a Home Inspection, or an Appraisal Contingency (to make sure the property appraises for the amount in your offer), or even a Mortgage Contingency (to make sure that you can secure financing on the home). The purpose of contingencies is to protect YOU as the Buyer so that if something should occur, you have the option or ability to get out of the deal without being penalized. You should decide on what (if any) contingencies you want to include prior to submitting any offer. Keep in mind that after an offer has been accepted, the contingencies have a time limit you must stay within.
Be Wise...Credit Wise
#1 Rule from Realtors and Mortgage Officers after your financing is in place? Do NOT go out and make "BIG" Purchases...don't buy that new car, nor the tons of furniture...Why? Because until you get the keys to your house after settlement is completed, your credit matters. Opening new credit cards or adding significant debt can negatively affect your credit score and possibly throw a wrench into your home purchase. Discuss with your Mortgage Officer, but you may want to hold off on making any big purchases until after you move into your home or atleast made settlement on it.
Of course there are plenty more tips to help navigate the Home Buying process. So if you're thinking about embarking on your Home Buying journey or you are ready to buy, let's catch up! With 23 Years of experience in Real Estate, I can assist and guide you to Buying SUCCESS! Buy, Sell, New Construction, or Investment! Contact me at [email protected] or 267-446-0667. Real Estate with INTEGRITY and HEART. Happy House Hunting and Let's Go! ~Jen